South Cotabato - Open Government Partnership (SC-OGP)
The Open Government Partnership is a multilateral initiative that aims to secure concrete commitments from governments to promote transparency, empower citizens, fight corruption, and harness new technologies to strengthen governance. In the spirit of multi-stakeholder collaboration, OGP is overseen by a Steering Committee including representatives of governments and civil society organizations.
One of its programs, the Open Government Partnership (OGP) Local program, is an initiative that recognizes and supports the role that municipal, city, metropolitan, state, regional, and provincial entities play in advancing open government, due to their close proximity to citizens and the crucial public services they provide. OGP launched a Subnational Pilot in 2016, with 15 pioneering subnational governments submitting and implementing their first Action Plans 2016-2017.
On April 2018, among the many local government units in the world, South Cotabato was chosen to be among the five (5) new additional members, bringing the total OGP Local Participants to 20, as follows:
Austin, United States
Basque Country, Spain
Bojonegoro, Indonesia
Buenos Aires, Argentina
Elgeyo Marakwet, Kenya
Iași, Romania
Jalisco, Mexico
Kaduna State, Nigeria
Kigoma, Tanzania
La Libertad, Peru
Madrid, Spain
Nariño, Colombia
Ontario, Canada
Paris, France
São Paulo, Brazil
Scotland, United Kingdom
Sekondi-Takoradi, Ghana
Seoul, South Korea
South Cotabato, Philippines
Tbilisi, Georgia
The OGP Local program aims to harness the innovation and momentum demonstrated by local governments and civil society partners across the world. OGP is a platform for these governments and civil society to come together to make their governments more open, inclusive and responsive, modeling the values and principles of the Open Government Declaration and processes.
South Cotabato - Open Government Partnership Commitments
These are the FIVE (5) Open Government Partnership (OGP) Commitments of South Cotabato. Each commitments were formulated through the thorough evaluation of the needs of the public. Certain departments from the Province of South Cotabato, CSOs, and Private Sectors plays a vital role in the accomplishment of these commitments. 
OPEN INFORMATION
Increasing Inclusivity in Public Access to Government Information for Inclusive Growth
Problem:
Poverty level is still high especially in isolated communities of indigenous peoples. How can the government respond to what people really need when citizens have limited access to government information?
Solution: 
The public will be better able to access government data and provide feedback both online and offline. They can view and save info on programs and services anywhere with Internet. If they have no Internet, a direct community engagement program will record what citizens want to ask the Governor. They will then air the Governor's response over radio.
OPEN MONITORING AND EVALUATION
Open and Participatory Monitoring Towards Quality Infrastructure for Increased
Urban-Rural Integration
Problem:
Infrastructure projects sometimes suffer from delayed implementation and completion. There are times when project quality and fund utilization is poor. Ideally, isolated communities should have better access to basic social services while being economically interdependent. Goods, services and mobility should also be improved. How can the government deliver the results they want?
Solution:
The public will be able to access real-time project monitoring results through an application. They can also give feedback and comments on infrastructure project status. Improved collaboration will help address issues faced in project implementation. Any findings and recommendations will be publicized for better accountability
OPEN CONTRACTING
Enhancing Efficiency and Transparency of the Public Procurement Process
Problem:
Completion of infrastructure projects are delayed due to problems in procurement, including not enough suppliers/contractors bidding and delays in service delivery by contractors. Problems like these hinder the timely completion of projects. How can the government improve the project procurement process?
Solution:
This commitment will make the procurement process more open both online and offline. They will then be better able to implement quality infrastructure projects as scheduled. The commitment also allows service delivery that is more effective and efficient.
OPEN MINING INFORMATION
Developing and Integrating Transparency Standards and Systems for Increased Accountability and Social Responsibility in Extractive Industries of South Cotabato
Problem:
People are misinformed about mining activities in the province. They either do not have access to information about such activities, or they are not capable of understanding the information. This has caused tension and conflict within communities affected by mining, and between anti and pro-mining groups. How can the government solve this?
Solution:
Extractive Industries Transparency Initiative (EITI) standards will be integrated. Transparency about mining, quarrying and energy industries in the province will be improved. People will also be better engaged through the systems this commitment will implement.
OPEN LEGISLATION
Broadening Civic Engagement towards Relevant Local Legislation
Problem:
Policies affect how localities develop. To reduce poverty, ordinances need to be relevant and effective. The general public must be better engaged for this to happen. Unfortunately, not all legislative measures are open for public hearing. Most people have limited knowledge on these measures. How can the government improve the public's capability to provide input and propose new legislative measures?
Solution:
Legislative processes and measures will be distributed both online and offline. Citizens can also be consulted on pieces of legislation over these platforms. This will ensure that the government will pass legislative measures and processes that are relevant.
Click the button below to have an idea of the format.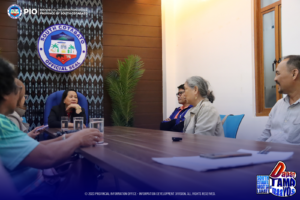 Ester M. Ante, a dedicated volunteer in the Population Program...
Read More